There is business value in being a member of the Chamber of Commerce. 
Join us and see the difference!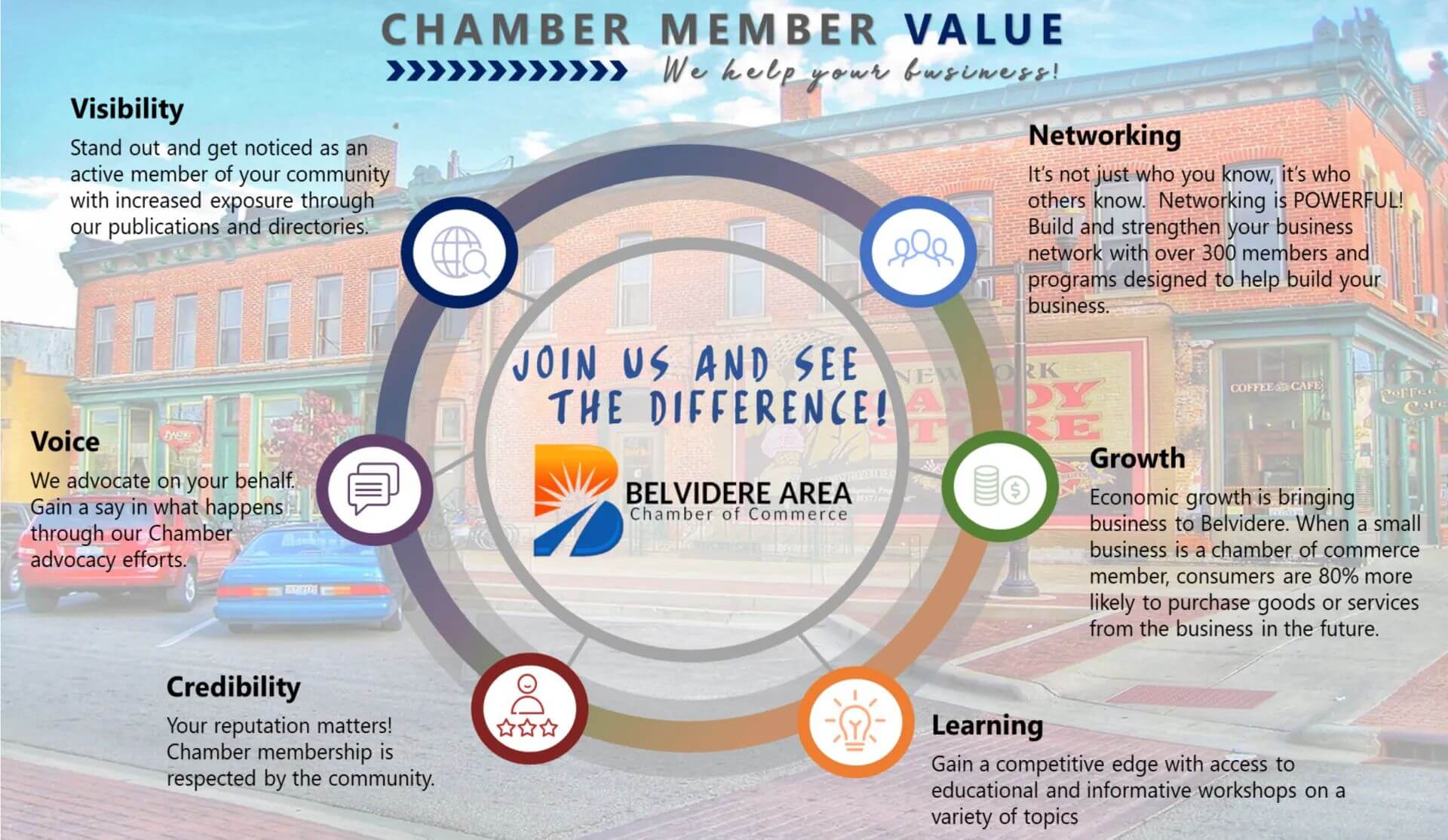 Business Referral Services
The Chamber Receives A Large Volume Of Calls Each Day From Individuals And Companies Requesting Goods And Services. We Respond By Referring Only Chamber Members.
Business Contacts
Opportunities Abound When You Attend Chamber Events, Meetings, And Activities. Plan To Meet Potential Customers And Vendors. Bring Plenty Of Business Cards.
Monthly Networking Events
Our Monthly Breakfast Before Business Breakfasts, After Hours And Blenders Are Not Just For Food And Refreshments! Many Social And Business Contacts Are Made At Each And The Contacts Will Also Benefit Your Staff And Employees.
E-Newsletter
Each week you will receive the Chamber's E-Newsletter, which keeps you informed with items on upcoming events, resources, concerns, and issues affecting our business community.
Membership Directory
As a member, your company will receive a Chamber Membership Directory Listing on our Website. The listing is customizable to share information on your business services and products.
Government Relations
Government Issues Such As Education, Employment, Health Care Benefits, And Local Government Issues Directly Related To The Growth And Prosperity Of Your Business. The Chamber Is A Driving Force In Current Legislative Affairs And You Benefit Through Our Efforts. Committee Members Are Always Welcome And Encouraged To Get Involved In The Vast Array Of Chamber Committees And Activities. The Benefits To You Are Great When You Become An Active Part Of The Chamber And Help Shape The Future.
Ribbon Cutting Ceremonies
Let The Chamber Help You Celebrate Your New Office, Product, Or Renovation! Call or email us to set up this special event.
Yearly Events
You can highlight your business services to prospective clients at the annual downtown business trick-or-treat event, Annual Dinner, and Hometown Christmas, plus the many Networking meetings and events put on by the Chamber or hosted by Chamber Members.
Advertising
The Chamber Website Provides Chamber Members With Links To Their Web Page And Can Even Advertise Employment Needs For Your Company FREE OF CHARGE. The Membership Is Also Posted On The Website For Anyone Looking For The Goods And Services That You Provide. As Options To Use Our Web Site Increase, So Will Your Opportunities.
Proud Member Window Cling
A Proud Member Window Cling is given to you for display in your business to indicate to your clients that you support the community through Chamber membership.  Email us to drop one off.